One of the things I love about Christmas is that it has its own sound. I love music anyway, but when you take great classic music that you can (and should) only listen to for a short time, once a year, it becomes really sentimental and special. That's the way it is with Christmas music. Over the years, especially since I've been married to Mr Park, I've narrowed down my selection of cd's I listen to. Of course, I listen to the radio when I'm in the car, and I like to listen to
Pandora
when I'm cooking or housecleaning, but this collection has become my go-to stash for several years now. I've added one or two, but I imagine this club will stay pretty exclusive. There's not much room for newcomers in the Christmas music category.
Today I thought I'd share my list of favorites and a little about how each one made the cut. Now, I'm no music reviewer. In fact, I've looked at the liner notes on old albums and even reviews on i-tunes and I do not speak that language. I don't notice bass tones and rifts or continuity and bridges. Even though my husband is a musician and he can discuss that stuff at length with the best of them, I either like it or I don't and I usually can't explain why. But I'll try to give you a little more than that, here.
These first two are pretty sentimental and we don't pull them out until we're ready to officially begin the Christmas season in our house. Usually while we decorate the Christmas tree. When Mr Park was little, his mom used to buy Goodyear Christmas albums every year. If you're not familiar with the promo that Goodyear put on for a number of years, here's a commercial from 1963 about it.
When Mr Park and I lived in Arlington, he found these albums at the public library sale. These two have an all around good collection of songs most everyone is familiar with. These are the classics sung by the greats. And you can still find them in old record shops and thrift stores. For a while, I was always hunting them. Then I realized it's not much of a hunt because they're not really that hard to find. I've included a link to a guy that sells these already converted to cd.
This next one could possibly be my favorite Christmas cd of all time. I know that probably seems weird, considering all the great classic Christmas music out there, but I'm a sucker for the big band stuff. If you grew up in the church, you probably remember
Russ Taff
from his Imperials days. I grew up listening to that stuff so I probably picked up this cd because I recognized the name and I could tell from the microphone that I would like the music. ;) Or maybe it was during the time I was a member of that cd mafia club and it was unbelievably easy to build a cd collection without spending much money. This particular cd came out in 1992 and I've probably played it a hundred times since then. Speaking of Russ Taff, did you know his wife is a blogger? Her name is Tori and she's pretty funny. Here's a link to her
blog
.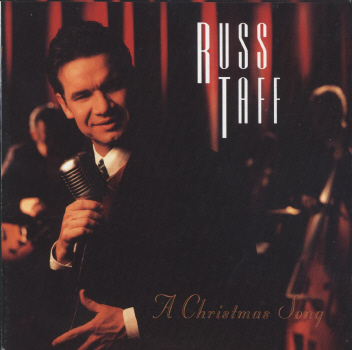 I spent my teenage years in the 80's so I'm naturally a big fan of
Annie Lennox
. She had me at "Sweet dreams are made of this." When I saw that she had a Christmas album out last year I was intrigued. First of all, I love the cd cover. It's something I have to be really careful about. I'll buy anything if I like the way it's packaged. This cd's beauty isn't just skin deep, though. It has an old English sound, like the way I imagine Christmas carols sounded in the 1800's. It's different, but I really like it.
My Diana Krall Christmas cd came out in 2005, but I just got it a couple of years ago. This is just a simple case of loving a certain sound. I could probably listen to Diana Krall sing the phonebook. This one has a classic sound with a full jazz orchestra accompanying.
I've saved the best for last at my husband's request. This is a compilation cd he made in 1999. It contains his all time favorite Christmas songs. He took them from a bunch of cd's and painstakingly put them in the perfect order so it can merit the title, "The Greatest Little Christmas Album of All Tiime!"
It's the one we take with us when we get our tree and look at Christmas lights every year.
It's also the one that Mr Park plays on Christmas morning to wake up the kids. We've listened to it so many times that we know the order of the songs and can start singing the next song before it begins.
I've told you my favorites, now what are yours?