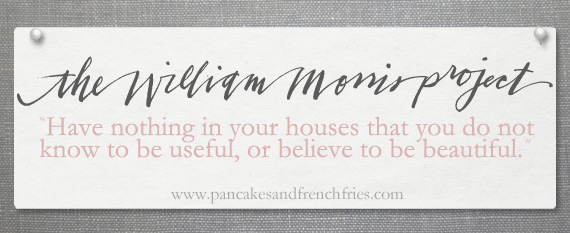 One of the reasons I'm doing the
William Morris project
(along with everyone else who's
linked up
over at Jules' blog) is because I feel like I've been blessed with a great house with lots of storage and I want to be able to use my house for its intended purpose and not get slowed down by clutter and disorganization. Other people may have other reasons, that's mine.
When I first got married, we lived in a small rent house with not that much stuff and it was cluttered and disorganized. When we lived in a larger rent house, with more stuff, it was cluttered and disorganized. Now I have the house I've always dreamed about, that my husband and I had built exactly the way we wanted it and guess what? It's cluttered and disorganized. Anyone else see a pattern here. I now know that it doesn't matter the size of my house, if I don't learn to live with less and keep what I do have in some kind of order, I won't be able to control it and it will end up controlling me.
Okay, enough of that. This past week I focused on my laundry room. A laundry room that I designed to be beautiful and functional and make the chore of doing laundry enjoyable. Is that possible? It has tons of storage space and a whole wall of windows. And last week, before I started this project, it looked a little something like this.
I know. It's a little deplorable. When I took my friend, Brenda, in there to start work last Thursday, she said, "Oh, this isn't that bad at all!" I know she was referring to the amount of work we had ahead of us, but I've been rationalizing about this room for years with that statement. And the current question of beauty/usefulness is easily answered. It's not fulfilling it's intended purpose and it frustrates and slows me down.
The first thing Brenda and I did was answer some questions about the space. What do I want it to be used for? What do I want to store there? These weren't easy questions for me to answer because I don't think like that. I'm not an efficiency expert. I'm not even an efficiency novice. I have lots of storage, so I could easily just put things in spaces and be done with it, but I want to have a system. A system that makes sense. Not just to me. I'm tired of being the only one in the house who knows where things are. At one time, I was proud of the fact that if my husband needed something and he didn't have a clue where to find it, I could tell him exactly what drawer it was in and what he needed to move to get to it. Now, I'm responsible for 6 people's things and I'm 40 and my memory's not so good anymore and I'm not the only one putting things in random places and my system is no longer working. For anyone.
In addition to laundry paraphernalia, this room is overrun with mementos and papers and a lot of non-categorizable stuff.
We started by deciding what the shelves above the washer and dryer would store. The first shelf will be for laundry stuff on the right. (It's not finished because I need some better containers.) The bottom two shelves on the left, are for current projects. The bottom shelf is for ongoing projects (my kids mementos that need to be put into scrap books) and the shelf above it is for current short term projects. Anything above that is not easy to access without a step ladder so it will be for things I don't use very often. I haven't decided what those things are yet.
This is a poorly thought out cabinet that's above the water heater cabinet. It's too big a space to be used efficiently. I'm looking for something to make it more useful and Brenda suggested I use the space to keep extra school supplies that I have a hard time keeping in stock because of my kids. I homeschool my three girls and anything that's left within their reach is used up or strewn about the house within a week. Like paper, pencils and art supplies.
This is the file cabinet that I plan on making pretty and actually using. For papers. The container sitting on top of it is where I put every paper I came across while cleaning out this room.
This is my sink area that hasn't seen the light of day for a long, long time. One of my kids said, "I didn't know you had a sink there. Cool!" You can't see it in the picture, but there is a rod above the area for hanging clothes. I might have a shelf installed above the rod, but then again, that would be more storage. We'll see.
I guess you could say that one half of the laundry room is cleaned out.
During this clean-out, we ran across a lot of papers and things that needed to be identified, categorized and put in a designated place. So, instead of moving on to the other half of the laundry room today, we're concentrating on paperwork and things of that nature.
This box was my assignment for the week and I didn't get to it. That's what we'll be doing today. Another reason for the push to organize the paper is tax time. The tax man has officially started to haunt me in my sleep. My husband is a self-employed commercial illustrator and a songwriter so tax time is always a nightmare for me. We have a miracle working CPA, but I am responsible for getting all the paperwork in order and crunching all the numbers before we take it to him.
Another thing I did since my last post was work on the crate/coffee table.
We sanded and made sure there weren't any sharp nails or screws sticking out and we worked on the wheels.
wrong kind of attachments
I can't remember why these weren't right
not sturdy enough
too expensive
So this is what I ended up going with. I like that they are made of steel, but I don't like how new they look.
A little dark stain and a spattering of brown spray paint (not pictured) was all it took to make them look old and worn like they had been there forever.
Now all that's left is to decide on a stain for the box itself, find hinges that will work and attach the wheels. This "weekend" project is turning into a month long one.
And that's what I've been up to this past week.
Linking up with
Jules' William Morris project
at
Pancakes and French Fries
.