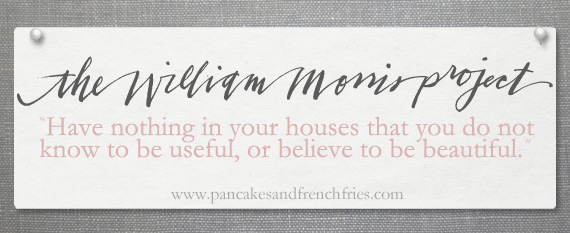 Last week, I was decidedly absent from Jules'
William Morris project
. After all, who wants to read a post about everything I thought about doing? Every time I walked into a room, I was bombarded with thoughts of what I want to get rid of and what I want to keep. Then, because of (insert excuse here) I didn't actually do anything. This week I have a few piles to show for all of last week's thinking. It's not much to look at, but it's what I've got.
This is the back of my car. It's filled with Goodwill stuff, recyclables, plastic grocery bags and things that need to go to other people's houses. It's now empty! Next to that, on the ground, is a bag of things that didn't belong in the car and a bag of trash I collected from the inside. Most of it was what I like to call "van mix" from the floor boards. ((shudder)) The stuff that came in the house was a mixture of clothes, coats, dishes, mail, hair accessories and coloring stuff. It's all back where it belongs now. Ah, feels good, doesn't it?
This is my purse. It's a jungle in there. It's gotten so bad that I've stopped carrying into places because I've realized how useless it is.
It's like a big leather filing cabinet with some makeup and random toys and pens thrown in.
I dumped it out on the floor and as if it were some kind of bait, within minutes my oldest daughter showed up to go through it. And she's not even my organized one. (She just wanted to get out of doing her reading.) Regardless, my purse is much lighter today because of it. Thanks, Anna!
Today, a dear (x100) friend of mine is coming over to help me with whatever project I want to work on. She's kind of my mentor/other mother and she 'gets' where I'm going, what it will take to get there and what's standing in my way, so she's offered her services once every couple of weeks. Did I tell you how much I love her? When she called earlier this week, wanting to know if I had come up with a project, I was ready. I'll be spending a good part of today cleaning out the closet in my laundry room and getting rid of all those things that, if I were by myself, I would stare at for an ungodly amount of time and then set aside for later. Just in case. I can't wait to see what we get done. I'll share all the details next week.
Have you made any progress toward beauty or usefulness this week? Link up
here
and share!